📵Why do we do this?
Thank god it's a bye week.

This. Is. Northwestern. Football.
We have a kink. But we're not here to shame anyone.
We watch, probably, because we hope it'll get better. We hope that this team won't turtle on offense when the opposing QB leaves the game with an injury. We hope that we won't be able to predict run-run-pass on three consecutive first, second and third downs. We hope, for some reason, that watching Northwestern will give us joy.
It has before.
OK, now let's blame some things. (If you missed the first one of these and you're not quite sure what's going on, click here. Or don't. You'll pick it up quickly.)
---
📵Blame the Body Clocks
Remember back in 2015 when the then-chairman of the College Football Playoff blamed Stanford's season-opening loss in Evanston on discombobulated "body clocks" that led to a somewhat slow start.
It was funny. We laughed. We made jokes.
But …
… here we are. It's now 2019. And Northwestern is 1-4. And I'm looking for something to blame.
Northwestern has yet to have a lead in a game where they didn't play a 1-4 Mountain West team. And they've scored three points in the combined first quarters of those four non-UNLV games.
You could call Northwestern's offensive starts "slow." But you'd be wrong. "Slow" is when this team is performing in the 90th percentile of possible outcomes.
When Northwestern's offense comes out for its first drives of games, they are unfathomably horrific, completely inept, and "uncoordinated." Again, I'm going to be transparent about throwing out the UNLV game because of a little thing called narrative. But, in Northwestern's four losses this year, they have done the following with their first offensive possessions:
3 plays, 4 yards, interception

3 plays, 0 yards, punt

3 plays, 2 yards, punt

3 plays, 0 yards, punt
And the sad thing is that there's not much improvement after those first drives. Northwestern hasn't yet taken a lead in any of these games. When Northwestern scores for the first time, the team is already losing by an average of 8.5 points. And when Northwestern scores its first touchdown, the average deficit has been 16.
Body clocks. It's a thing, alright. And I'll blame them if I want to. There's a bye week now, so let's get those tickers in order.
📵Blame the 'Huskers
Northwestern-Nebraska has been a fun matchup since Big Red joined the Big Ten. But no game was more fun than the one on Nov. 2, 2013.
First off, Memorial Stadium is awesome. It's massive. It's got a unique mix of historic elements and modern amenities. It's loud. The fans are juuuust patronizing enough to be fun.
I covered the game and went down to the field for the last two minutes. It was a weird game with a bunch of injuries, but Northwestern took the lead on a field goal with like a minute left. Nebraska had to bring in its backup QB for a last-ditch drive and ended up near midfield with a few seconds left.
Hail Mary time.
I was standing pretty much even with the goal line on the near side of the field. After the ball was launched, I was sure it was going to land short. And it was going to. But there was just one problem:
First, the tip. Then, the touchdown. It was wild. And it led to one of my favorite press conference ever.
Fitz walked in, and it was dead silent.
"How is the team doing?" I asked.
He looked at me, a freshman reporter, and fired back. "How do you think they're doing?" he said. "How do you feel?"
"I don't feel anything. I'm supposed to be unbiased," I said because I was a good journalist.
"Well, you're not," Fitz shot back.
I, truly, had no response.
A bit later, a running back named Treyvon Green walked in to talk. A reporter asked, "Treyvon, how are you doing?"
"I'm great! Feeling good," he answered joyfully.
We all looked at each other for a minute, confused about the answer he gave just minutes after a devastating loss. Then we were reminded that Green was dinged up in the game but still finished with 149 yards and 3 touchdowns. A few of us laughed. Then we drove 10 hours back to Evanston.
The End.
---
#FireMcCall Tweet of the Week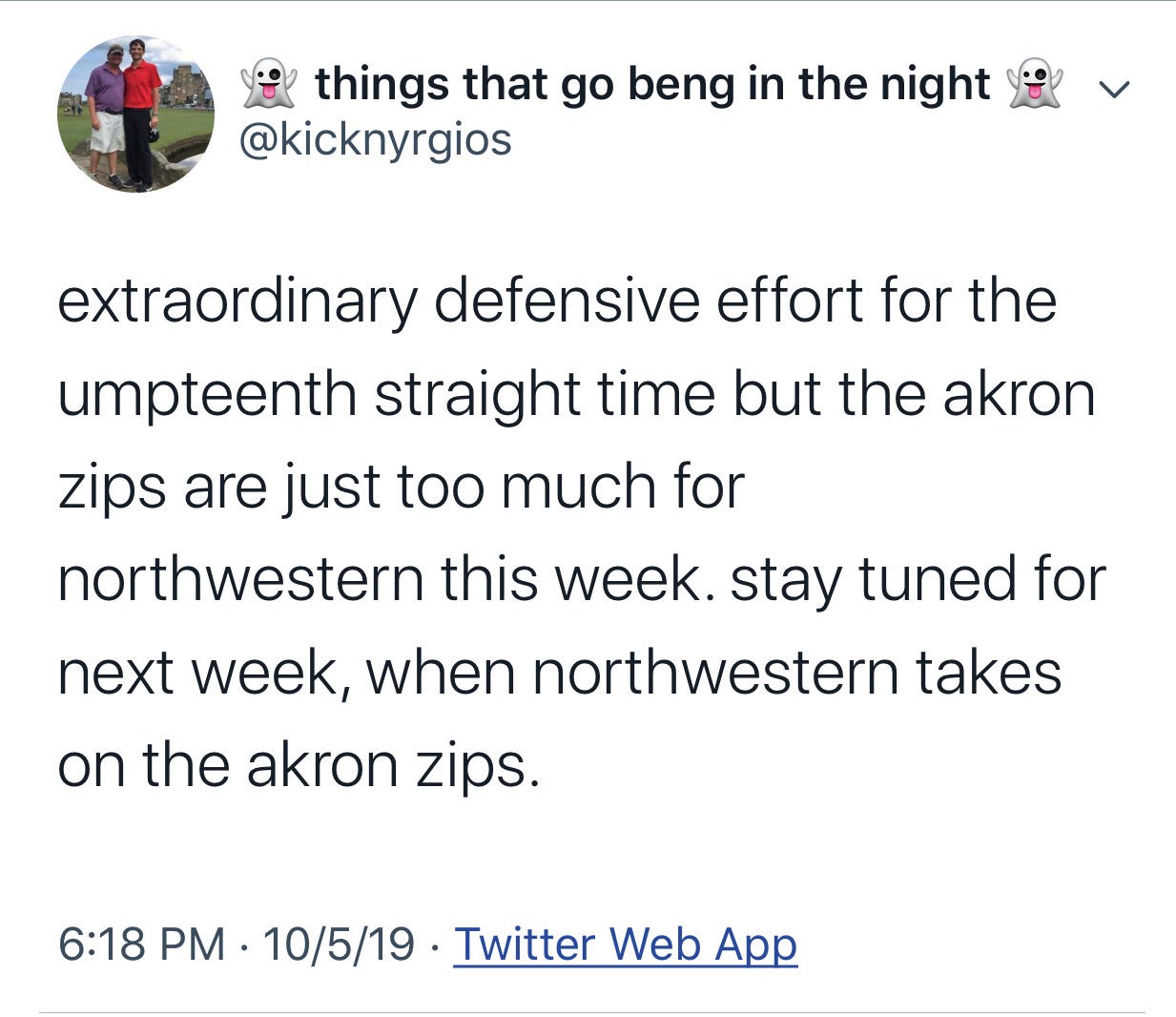 A truly great bit. Please read Ben Goren's "Northwestern loses to the Akron Zips again."
---
I Went to Medill
---
#idontcare Question of the Week
[REDACTED] from [REDACTED] via Twitter DM asks: "Where does derek [sic] pardon rank in NU basketball history — Anonymous submission"
This person truly wanted this to be off the record for some reason. So, you're welcome, [REDACTED].
The question stemmed from a tweet from the Northwestern men's basketball team that referred to Dererk Pardon as "one of the best to ever wear the uniform."
Because this is getting long, my short answer is yes. Pardon is probably in the 9-through-12ish range of the best players in Northwestern men's basketball history. That qualifies him as "one of the best," especially when you consider his position.
Ask me a question by responding to this email, sending me a telegram, or shooting me a Twitter DM. Whatever's easiest.
---
Thanks for sticking with another edition of 📵Blame the Phones. While the 'Cats have a bye week, I won't have one. I'll be back in your inbox next Tuesday.
And remember, if you want to be one my bag people, it's here.
Until next time,
Josh Rosenblat
P.S. If you have a friend that you think would enjoy this, forward this email to them or send them to blamethephones.substack.com. Thanks!