📵Fitz loves analytics, apparently
🙃We'll also check in on Northwestern men's basketball.
Good morning 'Cats fans,
Welcome to October. And, I don't know about you, but I feel like things are looking up for our Wildcats. It can't get much worse. Over the past three seasons, Northwestern has gone 10-2 in October.
For now, here's how these newsletters are going to go:
We're going to Blame Some Things.

We're going to praise a good tweet in the #FireMcCall Tweet of the Week section.

We're going to highlight some good content in the I Went to Medill section.

We're going to answer a question that you send me in the #idontcare section. (Send me questions on Twitter or by replying to this email.)
So, let's go 1-0 this week, shall we?
📵Blame the
Analytics
Was Fitz right to go for two down 15 at Wisconsin? Yes, probably. What about down 9? Again, probably yes. Other people do a better job of explaining that.
Fitz spent a good portion of his day yesterday playing internet footsie with the guy that's basically known as the Lord of College Football Advanced Stats (formerly of SB Nation, he now works for ESPN). If you're not familiar, Bill Connelly uses opponent- and tempo-adjusted analytics to determine the efficiency of college football teams. Basically, he can show how good (or bad) college football teams are.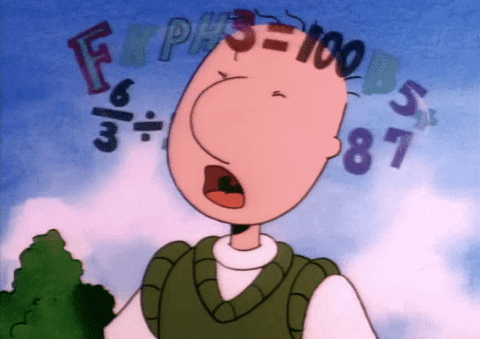 What proprietary data does Northwestern have on their own tendencies? This week, Fitz said that the program works with "some analytics companies." That explains the strategy after the scores against Wisconsin. Fine. It also probably explains the team's tendency to go for it more often on fourth downs over the past few seasons. Also fine.
But what about this? After a 2014 loss to Minnesota, Fitz said in a press conference that he'd "take third and manageable" all day. Third-down efficiency has long been heralded as the key to winning football. But it's not. Football teams are more efficient when they take some risks in order to try to pick up the necessary yardage before having to face a third down.
Northwestern ran 32 first and second down plays against Wisconsin on drives where Hunter Johnson was fully healthy. By my count, here's the play-type breakdown: 23 runs, 8 passes, one fumble return for a touchdown. Those plays (not including the fumble) averaged a very inefficient 3.4 yards per play, which is below Northwestern's overall season average of 3.8 (which has them ranked 126th out of 130 Division-I teams).
In the grand scheme of things, going for two is just a cute nod to show you pay your analytics consultants for something. But a game plan or philosophy that emphasizes getting close enough on third down already sets a talent-strapped offense back, resulting in what has been, by far, the worst offense of any major conference team in the nation this season.
📵Blame the
Recruiting Rankings
I feel bad for Hunter Johnson. I want him to succeed so bad. I thought he was going to be super fun. Why? Mostly because of his recruiting ranking.
What did Mick McCall say to Hunter Johnson to get him to transfer to Evanston after he decided to leave Clemson? What promises were made? What did Hunter Johnson see in this program?
Honestly, it was probably the fact that Clayton Thorson, Trevor Siemian, and Mike Kafka all became players NFL teams thought they should spend a draft pick on.
I'm truly sorry, Hunter Johnson.
📵Blame the
Lacrosse Player
So, basketball season is right around the corner. And just because the Northwestern football team has an offense that plays like its from the 19th century doesn't mean that the men's basketball program gets to fly under the radar.
Folks, Chris Collins' squad is going to be bad. Really bad.
It's unofficial media poll season. And Northwestern has been slotted in as the last-place team in the Big Ten. To find the last time Northwestern finished at the bottom of the Big Ten, you have to go all the way back to … last year.
But the Wildcats did their darnedest to stock up on talent to bounce back during the 2019-20 season. They went the unconventional route of giving a scholarship spot to a grad transfer from Loyola University Maryland. The thing is, Pat Spencer didn't hoop for the Greyhounds, he played lacrosse.
Hey, at least Northwestern's Chris Collins is doing better than U.S. Rep. Chris Collins.
---
#FireMcCall Tweet of the Week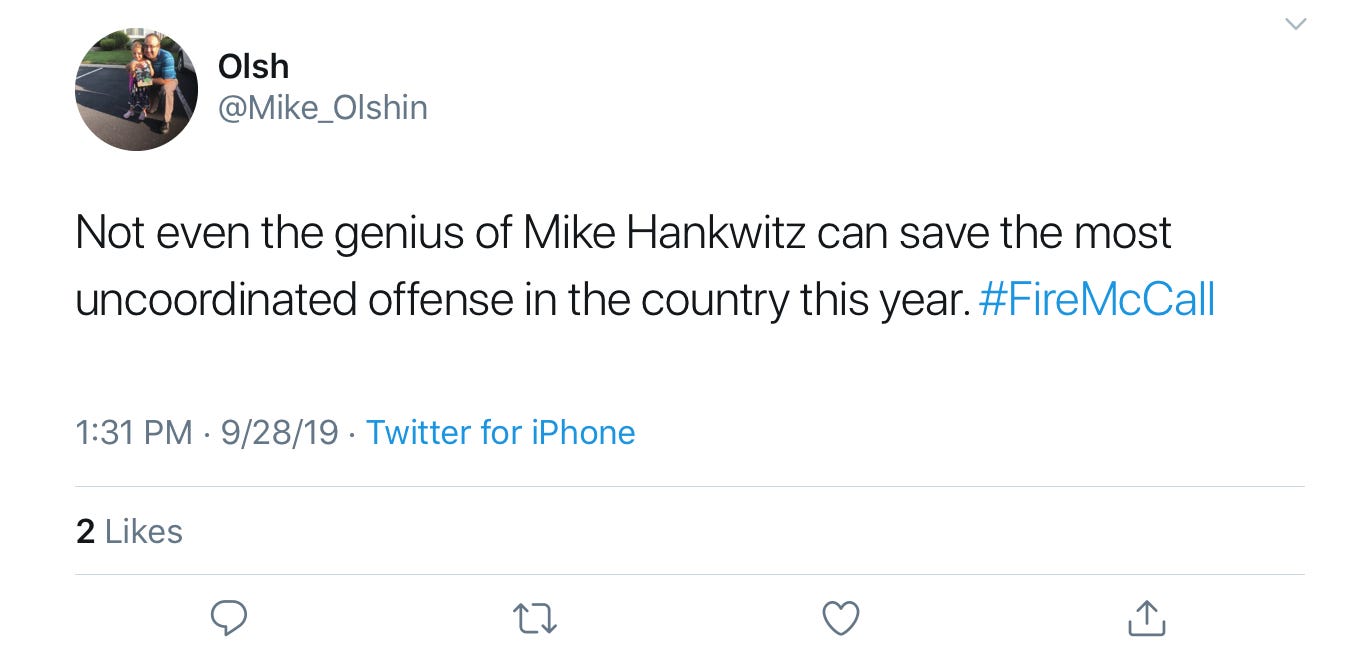 "Uncoordinated" is honestly an amazing insult. This made me laugh. Well done, @Mike_Olshin.
---
I Went to Medill
---
#idontcare
Josh from Philadelphia asks: "Longtime follower, first time questioner. Looks like you can get Northwestern +8 at Nebraska this weekend. You taking the 'Cats?"
Hey, Josh. Thanks for signing up. And nope. As of now, give me the 'Huskers in Lincoln. I don't care that they got mauled by Ohio State last week. Northwestern will get trashed by the Buckeyes in a few weeks anyway. I'm thinking 31-17.
---
So, this was my first one of these. Let me know what you thought. Too long? Too short? Have an idea for a section? Just reply to this email with any questions, comments or concerns.
Also, to those Bag People out there slinging some coin on Venmo, thank you. It means a lot.
Until next time,
Josh Rosenblat
P.S. If you think you have a friend that would enjoy this, forward this email to them or send them to blamethephones.substack.com. Thanks!