📵Is this thing on?
Pandemic football is coming to Evanston.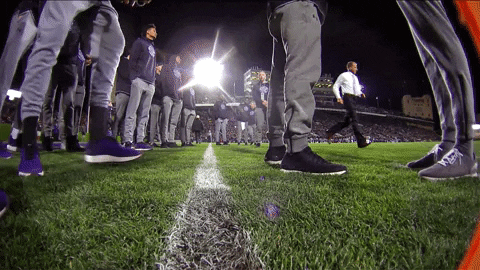 What's up, everyone?
The last one of these I wrote landed in your inbox on Feb. 28, 2020. That was just about eight months ago. We were all geared up for the women's basketball team's NCAA Tourney run, likely as a No. 2 seed. Mick McCall had recently been replaced. Things were looking up.
So, of course, 2020 had other plans. There was even a freakin' conspiracy theory that blamed phones for the coronavirus. I mean, c'mon.
Now it's late October, and we're waiting for the first in a series of football games that, frankly, makes me feel uneasy. I haven't watched much college football this fall. I just can't really get myself to do it. I turned off a recent Florida-Texas A&M game in College Station as soon as I saw a wide shot of nearly 100,000 folks packed together in the stands. And no, I didn't watch Clemson's 73-7 dismantling of Georgia Tech last weekend either.
If you opened this newsletter hoping for a sports-only preview of the Northwestern football team's game against Maryland on Saturday, you're just simply not going to get that. As for what you will get, I'm still not totally sure myself … I'm referring both to this newsletter and what's going to happen on the field.
Personally, it's not going to be easy watching football, knowing the potential dangers that initially delayed the Big Ten from even playing games to this point.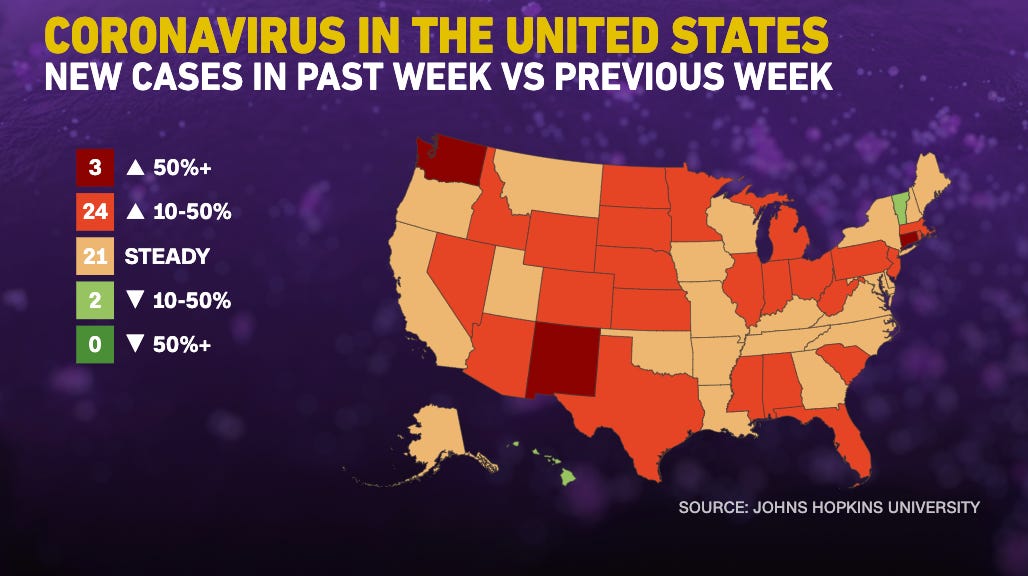 The Big Ten will be playing football games in Wisconsin, Ohio, Michigan, Indiana, Minnesota, and Illinois this weekend.
Five of those six states have seen a 10-50% increase in COVID-19 cases during the past week vs. the previous week, according to CNN.
Visiting teams will be traveling from Illinois, Nebraska, New Jersey, Pennsylvania, Iowa, Michigan, and Maryland.
Five of those seven states have seen a 10-50% increase in COVID-19 cases during the past week vs. the previous week, according to CNN.
Every single Big Ten football game this weekend will be hosted in a state with significantly rising coronavirus cases or the visiting team will have traveled from a state with significantly rising coronavirus cases.
It's not some miracle that Northwestern and the Big Ten are playing football this weekend. It's a clear and obvious money grab.
Again, the only articulation for how I might feel during Northwestern's game while knowing this information is that I'm going to be uneasy. I am hopeful the Big Ten can pull this off.
Hell, I want to watch this offensively challenged team.
It's just that I'll be watching with this context in mind.
With that, let's blame some things.
---
📵Blame optimism
Let's start with the good — and the biggest unknown: new offensive coordinator Mike Bajakian.
So what does "a 23% increase in per play eff[iciency]" actually look like? Using ESPN's offensive efficiency metric ("based on the point contributions of each unit to the team's scoring margin, on a per-play basis" while weighing for schedule strength and taking out garbage time), Northwestern finished last year with a rating of 23.5.
An increase of 23% (via @cfb_professor) would put Northwestern on par with a pretty interesting team from last year … Maryland.
Yes, Maryland went 3-9. So did Northwestern. And they'll meet up Saturday.
So why does this make me optimistic? I think a 23% increase in per play efficiency would be a relatively low mark when looking at Bajakian's Boston College offense from last season. Keep in mind, recruiting levels for both units were fairly even.
When you compare the advanced stats measuring what happened when Northwestern had the ball last season versus what happened when BC had the ball, a modest 23% increase in efficiency would be a disappointment. Boston College's offense operated at a top 50-ish level nationally last season, according to Football Outsiders' offense ratings from 2019, while Northwestern was No. 124.
My prediction for the season: Northwestern finishes as a top 70-ish offense. That's about where the 2017 team finished, when Northwestern went 10-3.
My prediction for Saturday: Northwestern wins 27-23.
---
📵Blame pessimism
Let's get something straight … Northwestern won't be as good as they were in 2017. But how good will they be? I don't really know.
Peyton Ramsey is … fine. A true freshman at left tackle is … scary but I mean I think the kid's got to be pretty freakin' good to win that job. The defense is … pretty good but I'm a little worried with Travis Whillock and Samdup Miller opting out.
My *super* bold prediction for the season: 4-4.
---
Check out…