📵Northwestern football is favored by 39.5 points
Seriously.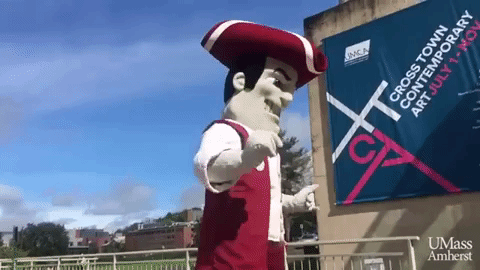 That was a brutal weekend.
To kick things off, Northwestern's men's basketball team dropped its season opener to Merrimack on Friday night.
Merrimack, a program playing in its first season in Division I who, in their first game, lost by 20 to a bad Maine team, came into Evanston and beat the Wildcats by 10.
Then, all looked well on Saturday morning as Northwestern jumped out 14-0 over Purdue, only to kiss away the lead in the second half. A missed short field goal and a game-winning drive from the Boilermakers' walk-on QB sent the Wildcats to 1-8.
Remember happier times?
This upcoming weekend is the fifth anniversary of Northwestern's win over No. 18 Notre Dame in South Bend. And last year, on Nov. 10, Northwestern took down No. 21 Iowa to clinch a spot in the Big Ten title game.
Thnks fr th mmrs.
---
📵Blame UMass
Northwestern opened as a 39.5-point favorite over UMass.
Both teams have the same number of wins this season: 1.
UMass' lone victory is over an Akron team that upset Northwestern last season (and the team Northwestern plays every single week).
So why is 1-8 Northwestern favored by close to 40 points? Well, believe it or not, UMass is statistically worse. Much worse.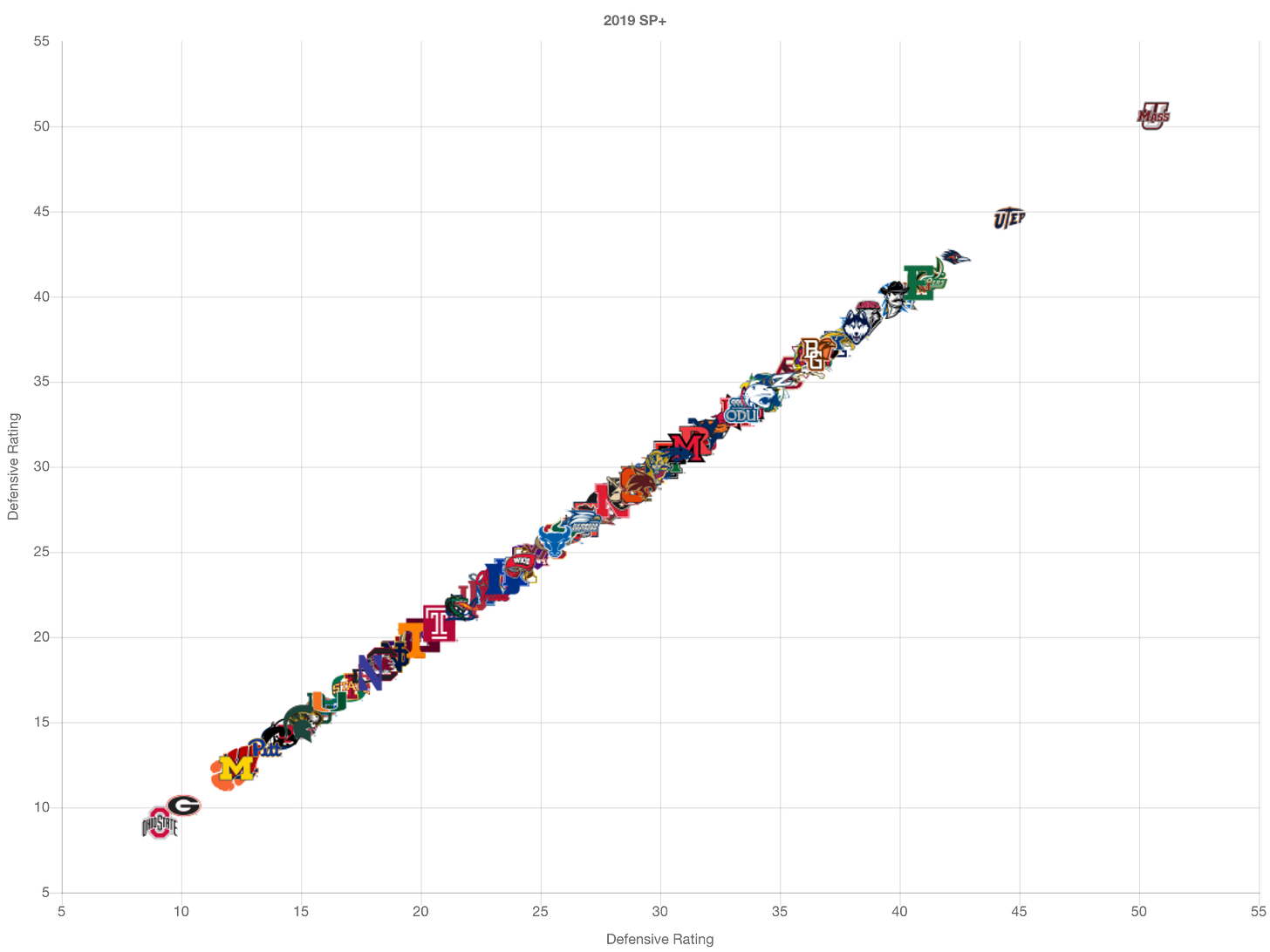 This is a graph of defensive rating by S&P+, a predictive advanced analytic, by our friends over at CollegeFootballData.com.
Ohio State is the best defensive team in the country. UMass is the worst, by a lot.
A simpler way to look at it: in the Minutemen's eight losses, they've given up at least 44 points. Coastal Carolina, Louisiana Tech, Liberty and Army have all put up 60-plus points.
UMass' lone win over Akron saw them hold the Zips to just 29 points. Akron is the worst-rated offense in the country. Yes, worse than Northwestern's. (UMass' offense isn't much better than the Zips'.)
I really have no idea how many points Northwestern can put up against UMass on Saturday. But to cover the spread, they'll have to put up at least 40, obviously
Overall, if you're looking to live your life on the edge, I think you should take the points and go with UMass.
According to Odds Shark, Northwestern has only been a 30-plus-point favorite once (2011 vs. Eastern Illinois, a game in which NU won but didn't cover). The Wildcats have been a 20-plus-point favorite 12 times going back to 1998. Against the spread, the team has gone just 4-8 (but 11-1 straight up).
---
📵Blame transfers
If you look back at Northwestern's 2016-17 basketball roster, you might notice two young guards and a center that got some playing time There was also a forward who redshirted.
None of them are on Chris Collins' current roster.
Northwestern's starting "point guard" in the season-opening loss to a freshly minted D-I team was Anthony Gaines. A defensive catalyst and aggressive driver off the bounce, Gaines basically plays like a power forward in a 6-foot-4 body. Maybe, pairing Gaines with a ball-handling scorer with speed might have helped.
And at center, a redshirt freshman started. Ryan Young had few opportunities in Collins' offense, finishing with just two shots and five free throw attempts in 21 minutes.
And, the kicker. Would this team benefit from a go-to scorer who averaged 16 points per game last season on 52% shooting for an NCAA Tournament team? That was the player who redshirted during the 2016-17 season.
Let's check in on some of these former Wildcats.
Isiah Brown, G, Grand Canyon
Remember him?
Brown was a small, quick guard that played two seasons at Northwestern. He showed flashes, but never really provided a scoring punch off the bench. He played nearly 15 minutes per game as a freshman, but his playing time dropped his sophomore year. He never really got the opportunity to show his development as a player. He transferred following the 2017-18 season and sat out last year due to NCAA rules.
Through two games this season at Grand Canyon, Brown has been one of the team's starting guards. In 35.5 minutes per game for the WAC school, Brown is putting up over 16 points per game. He also has a 6-to-1 assist-to-turnover ratio. His efficiency (a huge problem at Northwestern) has improved. He's launching 11.5 shots per game, but he's making almost 57% of them (including 50% from deep). On Friday night in a 12-point loss to Illinois, Brown led his team with 18 points.
Jordan Ash, G, Wright State
Remember him?
After deciding to redshirt during his fourth season at Northwestern, Ash is now a grad transfer at Wright State in the Horizon League. He's had a slow start to the season, starting one of the Raiders' first two games. Never a scorer at Northwestern, that has continued at Wright State.
Barret Benson, C, Southern Illinois
Remember him?
God, I loved Barret Benson. Strong lower body, soft hands, nice touch. He played with a ton of energy and was super fun. Benson finished up at Northwestern in three years and decided to play as a grad transfer this season at Southern Illinois.
He was never particularly productive for Northwestern, as he played behind Dererk Pardon all three years of his career in Evanston. Through four games at SIU (all starts), he's been really good. In 29 minutes per game, Benson is putting up 14 points per game, shooting 79% (!) from inside the three-point line. And, he's stepping out and launching over two threes per game this season, making 33% of them.
Rapolas Ivanauskas
, F, Colgate
Remember him?
You might not, honestly. Ivanauskas was a highly rated recruit who played just three games at Northwestern before transferring to the Patriot League. In his first season, the 6-foot-10, 225-pound forward earned the conference's player of the year award and led 'Gate to the NCAA Tournament.
So far this year, Ivanauskas has continued his stellar numbers from a season ago, but he seems to have a lot of room to improve. He's scoring 19 points per night through two games, but is shooting just 23% from deep while taking 6.5 attempts per game. He shot 43% from deep last year (albeit on way fewer attempts), but you have to think his percentages will creep up as the season moves on.
---
Cool student journalism story of the week
Peter Warren of the Daily Northwestern wrote about the 1959 Northwestern-Oklahoma football game, which ended a dynasty, catapulted NU to the top of the college football world, and involved food poisoning from Chicago's top nightclub.
---
That's where we'll end things this week. Thanks for sticking with another edition of 📵Blame the Phones.
And remember, if you want to be one my bag people, it's here.
Please let me know if you have any questions or ideas. I'd love to hear them.
Until next time,
Josh Rosenblat