📵Fitz says the QBs haven't been 'prepared' to play
Analyzing Pat Fitzgerald's most intriguing comments of the season.
This is new.
For the first time since I've been writing these emails, the Northwestern Wildcats won. But the most interesting thing about Northwestern's 45-6 win over UMass has been the aftermath (apologies to Evan Hull and his 220 yards and 4 touchdowns).
Head coach Pat Fitzgerald wasn't pleased with everyone's performance in his team's second victory of the season. He went on a soliloquy about the quarterbacks in his weekly press conference yesterday. We'll get into that later.
And days before that, the week got off to an unusual start Wednesday night with the men's basketball team's upset win over Providence. I had this horrible dream they lost to a school called Merrimack. Weird, I know.
To celebrate these wins, plus a three-win week from the women's basketball program, refer a friend. Share in the joy and privilege of being a Northwestern sports fan. Never have I ever been disappointed or frustrated while rooting for Northwestern. Never.
Even so, protocol states that we have to blame some things. That's the point of this exercise, isn't it?
---
📵Blame preparation
This isn't what we've come to know as the typical Pat Fitzgerald 2019 press conference. He traded in the bad jokes for actual insight. Toward the end of the presser, a reporter asked about the quarterbacks (I think that's the voice of Louie Vaccher of Wildcat Report at the 15:30 mark). For nearly three minutes, Fitzgerald talks about his team's quarterback play this season. I transcribed the episode below.
Question: The quarterback position has been an issue all season. On Saturday you talked about a lot of the same issues you've had all year. What's got to happen next year to fix the problem there?
And, in the words of college basketball insider Jon Rothstein quoting "the late Heath Ledger as The Joker in The Dark Knight, circa 2008" … "And Here. We. Go."
Fitzgerald begins:
It starts with preparation. It's obvious that some of our guys did not do the things they needed to do to prepare for the season. That showed and manifested itself pretty quickly. Roles changed. Roles changed dramatically for some guys. Obviously, the production — lack thereof — is a statement to preparation. So I think that starts there.
This is his thesis. Using the old "argumentative statement + because clause" formula, it's basically: "The Northwestern quarterbacks have played so poorly because they haven't been prepared for the roles they had to assume this season."
Who's in charge of prepping these guys in the offseason and during the week? 🤔🤔
It's funny. I sat here in the preseason and everybody told me who my starting quarterback was and nobody listened to me. I was pretty adamant that there was an ongoing quarterback battle going on. And now, obviously, I was correct. It's my fault. So I'll accept that responsibility. But that's just the way that it goes.
Sorry, I forgot this jab at the media probably qualifies as a "bad joke." Also, sorry for thinking that the five-star Clemson transfer would beat out the walk-on that struggled when he played in 2018.
We knew that we were going to go through some growing pains with a four-year starter having graduated. Could I, would I, should I have anticipated that our play would be this inconsistent? Nah, not really.

But once we saw that it was, we tried to do some things a little differently. But we can't have the quarterback play the way it is right now and expect to compete to win games consistently and compete to win championships.
This immediately made me think of former U.S. soccer player Taylor Twellman's rant after the U.S. men's national soccer team failed to make the World Cup after losing to Trinidad and Tobago in 2017.
The climax: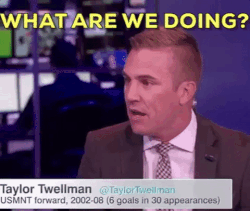 College football is different than the NFL. There's no draft. There's no free agency. You know what you have. You know who you have. And you know it well in advance.
And, crucially, nothing in college football lasts forever.
Clayton Thorson was never going to be at Northwestern in 2019. That was known for years.
Every other QB on the roster was going to be. This should have never been a shock to Mick McCall. This should have never been a shock to Pat Fitzgerald.
"What are we doing?"
On Nov. 18, you say that the quarterbacks have not only been ill-prepared for games this season, but that they were wholly unprepared to play at all this season.
"What are we doing?"
What was going on in that QB room in the offseason? What was going on during meetings between Fitzgerald and McCall?
"What are we doing?"
If you're there all offseason, seeing how the quarterbacks are being "prepared," a preparation you are publicly admonishing months later, how can you not anticipate inconsistent quarterback play?
Again, "What are we doing?"
So it goes to preparation — mentally, film study, prep, understanding the ins and outs of the offense, where to go with the ball, where not to go with the ball.

And then it's competition. We were really close, I thought, at the start of the year. T.J. [Green]'s injury was catastrophic because I thought he was our more experienced guy. But those are all excuses. We have to do a better job coaching them. We have to do a better job developing them. And we'll add competition to the room, too. The best person has to play. The most consistent person has to play. It's not the media-anointed one. We'll see how things progress.
Aside from hoping Green gets a sixth year of eligibility because that's what he appears to want and should get (along with having post-college medical costs paid for, maybe a pension, etc.), I'm really curious about how good he actually is. It really seems as if Fitzgerald thought this season was going to be doomed as soon Green got taken off the field at Stanford.
As I talk about how we will get things fixed, that is the number one room that I will get fixed. Period. End of discussion. Not hard, not complicated. It's painfully obvious.
Change is coming. It's happening.
Those guys are all great kids. But they weren't prepared for what it takes to be the starting quarterback and it shows. A little bit of it is inexperience. A lot of it is snowballed negativity. They didn't play very well and then they lost their trust in themselves and their confidence. We're trying to pump their tires to the best of our ability. We're trying to give them some things and it just keeps going down a negative snowball and we weren't able to help them get it turned around.

I believe in all of them. I believe they're all good enough to help us win. Andrew [Marty] and Jason [Whittaker] are chompin' at the bit for an opportunity. I think Aidan [Smith] and Hunter [Johnson], the guys who have played, have gotta prepare better and they've gotta perform better and we've got to coach them better. So that combination of things will get it fixed.
The end.
---
📵Blame zone defense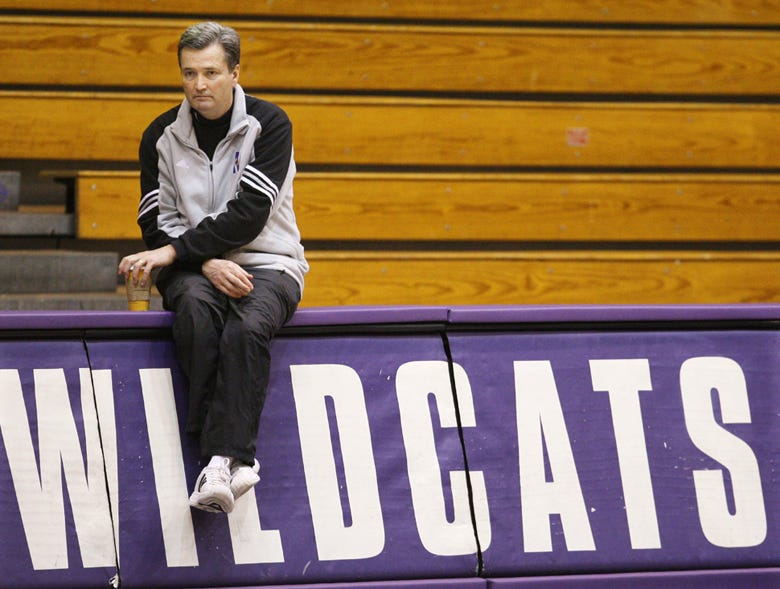 Northwestern's basketball is back. And the legendary Bill Carmody's fingerprints are all over it. Kinda.
The catalyst in Northwestern's upset win over Providence was its defense. Its zone defense.
While it wasn't the traditional 1-3-1 that Carmody employed during his time in Evanston, it, at times, looked like a 1-3-1 and was effective in keeping the Friars to shooting just 30.6% from the field.
Inside NU's Daniel Olinger broke down what the Wildcats seemed to be doing to Providence.
---
Interesting Northwestern-related story of the week
CNN interviewed Medill dean Charles Whitaker about an editorial published by the Daily Northwestern. If you didn't see the whole ordeal, the Daily apologized for its coverage of a protest at the school. Older journalists were, of course, outraged online without really knowing what happened. Whitaker wrote a really thoughtful, supportive and wise statement about what happened. (If you're going to read any of these links, read Whitaker's statement.) Then, he spoke with CNN.
---
That's where we'll end things this week. Thanks for sticking with a happy-ish edition of 📵Blame the Phones.
And remember, if you want to be one my bag people, it's here.
Please let me know if you have any questions or ideas. I'd love to hear them.
Until next time,
Josh Rosenblat