📵 Northwestern pulls in its best recruiting class
Is Chris Collins benching a future star?
Let's get right to it.
📈National Signing Day was yesterday and Northwestern was able to pull-in a really strong recruiting class despite a down year on the field.
📉The men's basketball program is the only 0-2 team in the Big Ten so far after a home loss to No. 15 Michigan State last night.
📈But, it's not all bad. They might have a star in the making.
With that, let's blame some things.
---
📵Blame National Signing Day
Ohio State is going to win the Big Ten for, like, the next 100 years.
The Buckeyes were — again — the top recruiting team in the Big Ten on National Signing Day yesterday, as they were in 2011, 2012, 2013, 2014, 2015, 2016, 2017, and 2018. And even when they had a down recruiting year with head coach Ryan Day's first class in 2019, they finished — gasp — third in the conference, and they're about to compete in the College Football Playoff.
Ok. Enough about them.
Let's talk about the 'Cats, who have just recruited their top class in the Pat Fitzgerald era.
By "rating" — 247Sports' measure of each class's average recruit, with larger numbers being better — Northwestern's 2020 class finishes significantly ahead of any other Northwestern recruiting class since these ratings began.
By ranking, this is also an extremely impressive class. Sure, 10th in the Big Ten might not sound so great. But that's because the rankings are done not by average recruiting rating, but by total rating. That means that Northwestern's relatively small class of 16 recruits who signed letters of intent deflates its ranking. By comparison, Penn State signed 27 players yesterday.
If you rank using average rating, Northwestern fares a lot better:
Ohio State - 92.04 average rating

Michigan - 89.52

Penn State - 89.49

Nebraska - 88.2

Wisconsin - 87.16

Northwestern - 86.66

Illinois - 86.56

Purdue - 86.48

Iowa - 86.34

Minnesota - 85.84

Michigan State - 85.74

Maryland - 85.57

Indiana - 84.86

Rutgers - 84.19
The bolded teams are members of the Big Ten West. They're all bunched together this year, but Northwestern does slot in as the third-best team in the division behind Nebraska and Wisconsin.
According to national rankings, Northwestern had its strongest class to date, slotting in at No. 37. That's 10 spots better than Fitzgerald's previous high of 47th in the nation. It's especially impressive considering the national rankings also use the cumulative metric and Northwestern seems to have its second smallest recruiting class in Fitzgerald's head coaching tenure.
The highlight of the class is offensive lineman Peter Skoronski from Maine South High School in Park Ridge, Ill. The 6-foot-4, 275-pound center is the No. 4 recruit at his position nationally. And one of the most well-respected recruiting analysts in the country seems to think highly of the future Wildcat:
Including Skoronski, seven of the 16 commits come in as offensive or defensive linemen. That seemed to be a clear focus on the recruiting trail this year.
In terms of traditional skill positions, the Wildcats picked up two tight end commits (superbacks in NU's system). They added one running back. But, there was a hole at wide receiver with no commits listed at that position, at least so far. They did add a few in the 2019 recruiting class, though.
Northwestern also leaned more heavily toward the defensive side of the ball with 10 of the 16 commits slated to play defense. That's not totally surprising considering the change at offensive coordinator. But this also could have been the plan all along.
Fitzgerald, in an interview with Big Ten Network, credited both the run to the Big Ten championship game in 2018 and the school's new football facilities for helping with recruitment during a down season for the program.
---
📵Blame Boo
I'm in love with Boo Buie.
The freshman has the ability to get to the hole and finish through contact. And, the kid just pulls up from anywhere.
Evidence: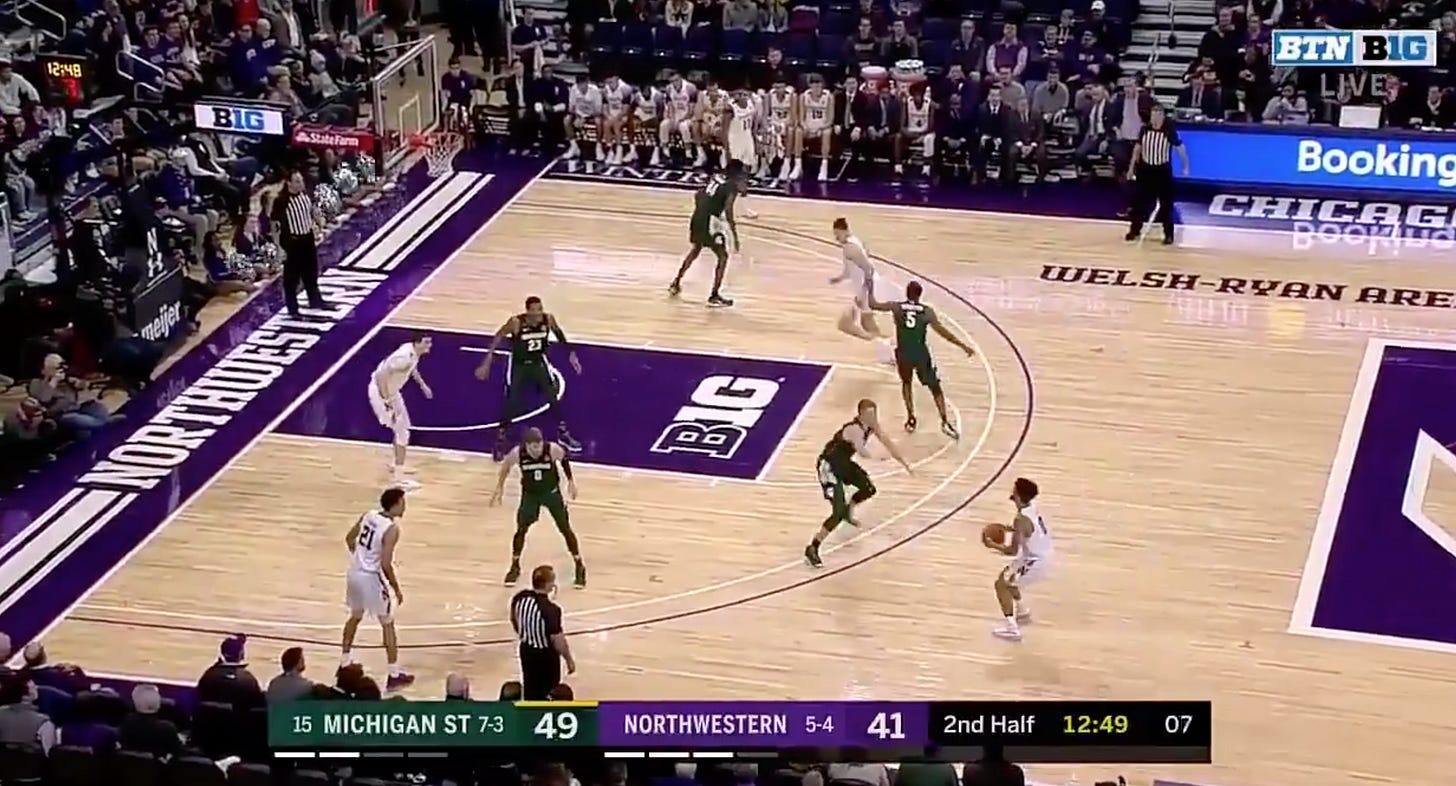 He drained this.
The only reason Northwestern was able to hang around in a 77-72 loss was Buie's 26 points. The freshman — I repeat, freshman — did not have a turnover against Tom Izzo's defense in 26 minutes where he was the Wildcats' primary ball-handler.
His shot chart also warmed my basketball analytics-loving heart: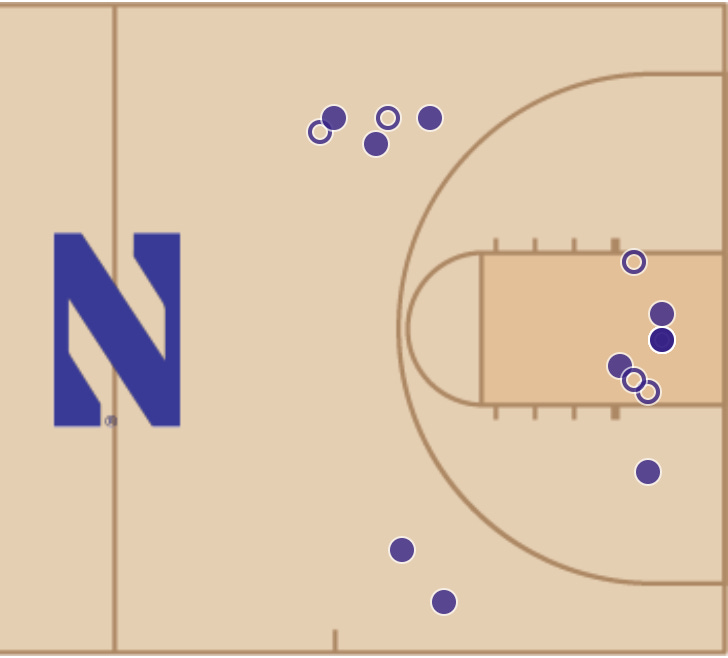 Buie doesn't settle for midrange jumpers (that one outlier was actually a floater from about 12 feet, doesn't count as a jumper in my book). He finished 8-13 on the night, made five threes, and added four assists.
His most impressive moments came midway through the second half. He scored 13 of 15 points for Northwestern over a a two-and-a-half-ish-minute stretch that saw the Wildcats cut the Spartans' lead from 14 to 5.
He's still coming off the bench and should be taking even more of Pat Spencer's minutes. (Spencer, again, struggled against a Big Ten backcourt last night.)
Apparently, Izzo liked what he saw out Buie, calling him "unbelievable," according to Inside NU. Izzo also thought Northwestern was in a good spot despite having just a 5-5 record on the season.
For context: Izzo was, by far, the most complimentary coach of Northwestern and other Big Ten teams that I have ever covered.
After a few point guards have transferred away from Northwestern under Chris Collins' tutelage, including one that involved an alleged janitorial-style punishment, I can't help but be worried about Buie's long-term future with the program. I'm kinda joking, but not totally. Collins, I swear if we lose Buie because of something you do …
Anyway, Northwestern also was the first Big Ten team to lose a home game this season, meaning that instead of having a moment in the Big Ten where every single team was tied with a 1-1 record, we have 12 teams tied for second place at 1-1, Michigan State on top at 2-0, and Northwestern at the bottom at 0-2. Great.
---
*Old* Northwestern journalism of the week
In case you didn't click on the link I included above about "janitorial-style punishment," please familiarize yourself with this lawsuit involving former Northwestern point guard Johnny Vassar. Vassar was allegedly made to "perform manual labor around campus" in order to keep his scholarship after leaving the men's basketball team. Legendary Northwestern ex-student journalist Kevin Trahan wrote the piece for Vice Sports.
---
That's where we'll end things this week. Thanks for sticking with another edition of 📵Blame the Phones.
I'll be taking a couple weeks off, then I'll be back in your inboxes the week of Jan. 6.
And remember, if you want to be one my bag people, it's here.
Please let me know if you have any questions or ideas. I'd love to hear them.
Take care and have a happy new year,
Josh Rosenblat